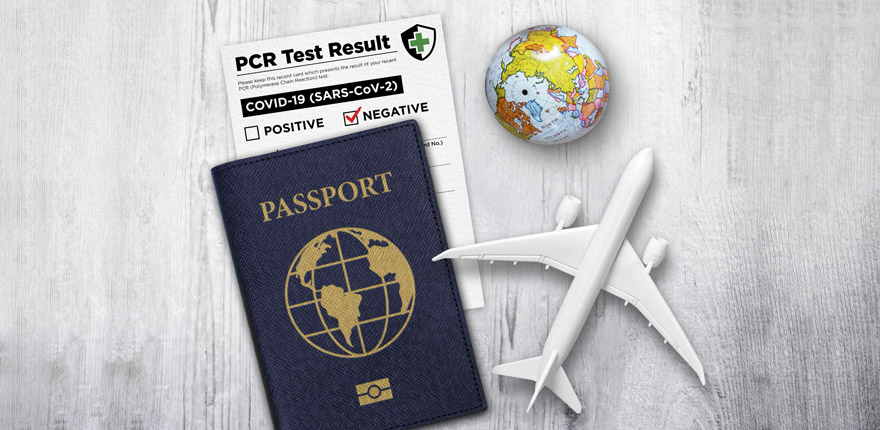 Procedures related to COVID-19 are currently at the top of people's lists.
To travel or move home, and in some countries for all administrative, employment or academic procedures and any others of a social nature, it is necessary to have an officially approved medical certificate certifying a PCR test result or stating that a person is free from SARS-CoV-2 (Covid-19 medical certificate to travel).
At the moment, to be able to travel or carry out administrative procedures, it is necessary to show the result of a negative PCR test or EU Digital COVID Certificate (formerly called Digital Green Certificate).
NEGATIVE PCR TEST RESULT.
Is it necessary to translate the result of a PCR test into English for travel?
The public health system provides PCR tests, although people can also be tested privately in approved medical laboratories.
The results are usually available in 24 hours, although in the case of PCR tests performed privately, the procedure is usually quicker and the result and COVID-19 medical certificate for travelling purposes are provided the same day.
---
It can take the public service up to 48 hours to give the result of a PCR test (also known as polymerase chain reaction test ), especially in the cases of negative PCR tests.
---
The results of a PCR test are usually in Spanish or, in the case of the corresponding Autonomous Communities, in Catalan/Valencian, Basque and Galician, although some laboratories also provide COVID-19 test certificates in English.
If you need your PCR test certificate in English, and you are tested in a private laboratory, ask whether they can give you the result of a negative PCR test in English. That way your PCR test for international travel will be ready to show to foreign authorities and you won't need a translation.
In other cases, a sworn translation of a negative PCR test into English or another language could be required. To be valid (if the translation is done in Spain), it must be official; that is, it must be signed by a translator appointed by the Ministry of Foreign Affairs, European Union and Cooperation.
It is worth noting that the number of vaccinated people is increasing. However, according to other clients, at the moment if someone wants to travel and they have a vaccination certificate, they could still be required to show a recent certificate of a negative PCR test together with its sworn translation.
If you have had both jabs, it is always better to check with the authorities at the destination and arrival whether the COVID-19 passport is sufficient, as long as you've had both doses of the vaccine. At present, a PCR test is still essential for anyone who wants to travel.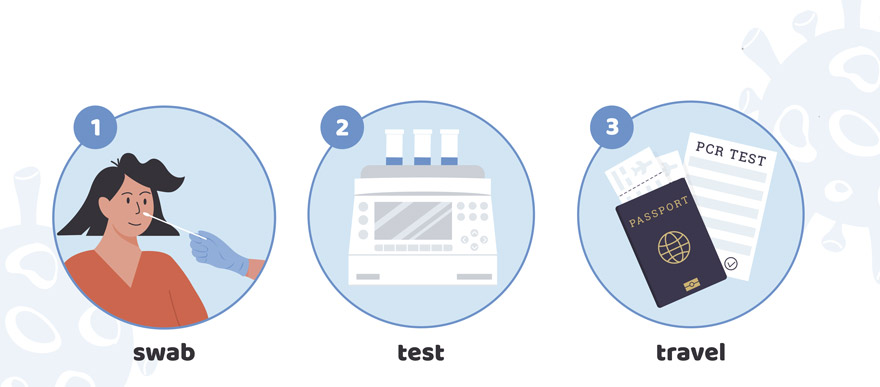 How can I request a sworn translation of a PCR test, COVID-19 passport or vaccination certificate?
If you would like us to provide you with a sworn translation of a PCR test into English or another language, we will need:
Send us your scanned negative PCR test certificate by email, Telegram or WhatsApp.
You can also take a high quality photo that looks like a scanned version, without external elements (table, hands, etc.).
We will reply quickly during business hours (we work long hours) with a quote and delivery time of the sworn translation.
We don't need the original PCR test certificate. A good quality scanned copy or photo is enough to be able to give you a quote for a sworn translation of the result of the PCR test, as well as the translation if you confirm you accept our offer.
How long will it take to get a sworn translation of a PCR test result and vaccination certificate?
We are aware that the result of a PCR test expires quickly and the test is often done urgently so it is valid for travel purposes. Consequently, we usually provide the sworn translation of COVID-19 documentation (negative PCR tests, antigen test, vaccination certificate) within 24/48 hours.
---
We will send you the sworn translation by email in PDF format, which is usually sufficient to be able to show it on the plane or upon your arrival.
---
However, you can also pick up the paper version of the sworn translation from any one of our offices (Madrid, Barcelona, Valencia, Almería) or receive it at an address in the peninsula in 24 hours.
Up until now, the vast majority of sworn translations of a PCR test certificate have been accepted in a digital version. This way, you receive your official translation quickly and there's no danger of losing it because you have a digital copy.
Main languages of sworn translations of PCR test certificates
For travel purposes, the vast majority of negative PCR test certificates are officially translated into English whenever they have to be shown to airport authorities or on the plane.
If your document is already in English and you are going to travel to Spain, check with the Spanish authorities whether you need an official translation into Spanish. We know that there have been cases when people have been required to show a Spanish version and other occasions when an English version of a negative PCR test result or a certificate proving the completion of the vaccination course has been accepted in Spain.
Furthermore, some clients prefer to be on the safe side and they get a translation of the PCR test result in the official language of the destination country. When you arrange your trip you will probably find detailed information about these kind of requirements.
Frequently, the airline itself will provide the information you need. However, if you have any queries, we advise you to check with both the embassy in the destination country and the company you'll be travelling with.
We mainly provide sworn translations of PCR test certificates into:
The COVID-19 PCR test in English is the most common, followed by the vaccination certificate/COVID-19 passport.
Request a sworn translation of a COVID-19 PCR test and vaccination certificates/passports from Lingua Franca.
To date, we have successfully provided many sworn translations of PCR test certificates.
We make our greatest effort to give maximum priority and urgency to translations of this nature, and we also treat them with the confidentiality, diligence and accuracy.
We will provide you with a sworn translation that will be officially recognised and signed by translators appointed by the Spanish Ministry of Foreign Affairs, for both English into Spanish translations and other languages into Spanish. If you don't require a translation in either of the two languages, we can also help you.
We reply quickly, we translate with respect for you and your documentation.
---
Please contact Lingua Franca if you have any queries related to the translation of the coronavirus test or vaccination certificate. We wish you the best of health!
---
¿Quieres estar al corriente de todas las novedades de Lingua Franca?